Batman Artist Hides Dragon Ball Z Reference In New World's Finest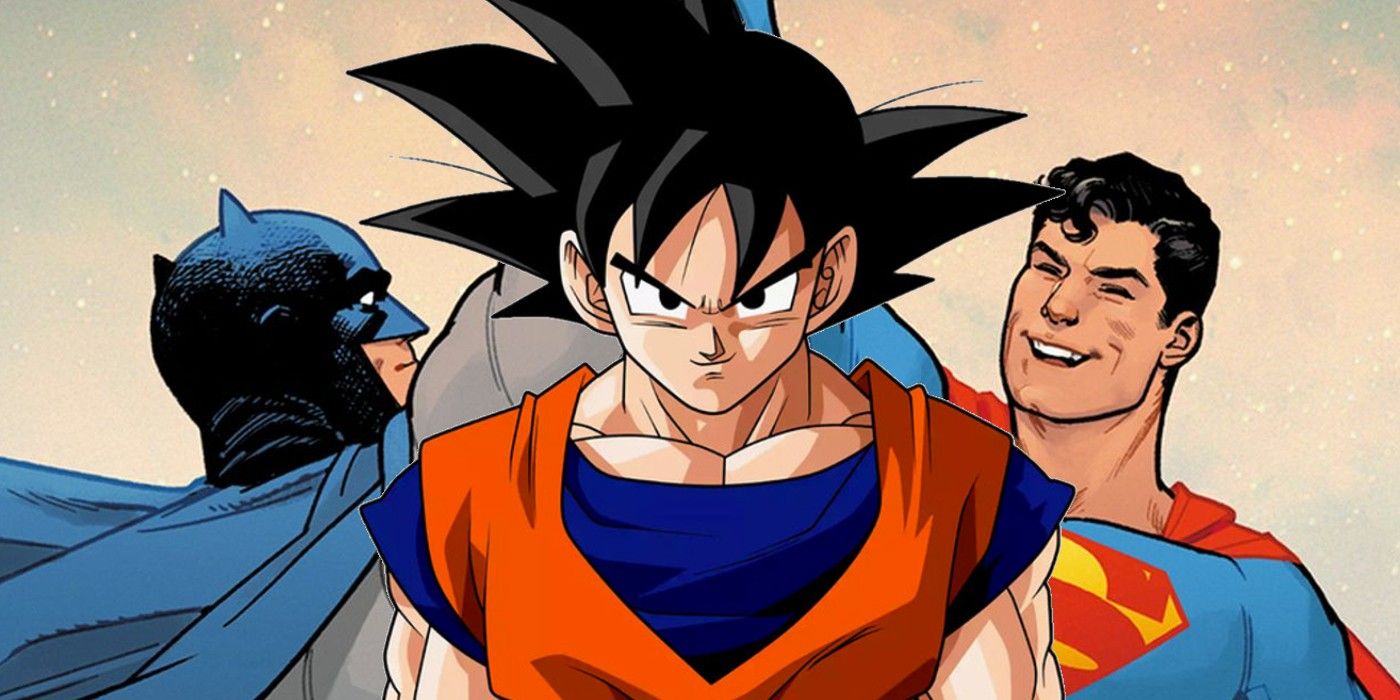 Warning: Spoilers for Batman/Superman: World's Finest #2 are ahead.
fans of Dragon Ball Z and Batman DC Comics never expect to see their favorite characters cross paths in other people's stories, but that doesn't stop comic book artists from making references in their work. While Western superhero manga and comics are generally considered two separate entities that have little to do with each other, many Western comic artists have been influenced by manga such as Dragon Ball Z and naruto. This recently came to a head in the latest issue of Batman/Superman: the best in the world #2, drawn by artist Dan Mora.
Dan Mora has made a name for himself in DC Comics with interior art on Batman-related books, drawing several issues of Detective comics and the Future State: Dark Detective series. Mora's work also extends to indie comics such as past and future, a series of Boom! Studios with writer Kieron Gillen and colorist Tamra Bonvillain. His current series, Batman/Superman: the best in the world resurrects a classic DC title featuring a team-up between Batman and Superman, emphasizing the friendship between the two heroes. The title also features adjacent characters such as Robin and Supergirl. And while The best in the world is a DC book through and through, Mora is hidden Dragon Ball Z reference adds an unexpected twist that appeals to fans of Superman, Batman, and Dragon Ball Z.
On Instagram, Dan Mora posted a panel of Batman/Superman: the best in the world #2, where an ancient Chinese warrior strikes a pose similar to Goku from Dragon Ball Z. The scene comes just as Robin (Dick Grayson) and Supergirl are transported back in time to ancient China in order to learn how a recently appeared enemy, the devil Nezha, was first defeated by a group called the House. of Ji. Naturally, the sudden appearance of Supergirl flying while holding Robin caused confusion in the House of Ji, thinking they were "soldiers of Nezha". Given the level of power associated with Nezha, the warriors of the House of Ji prepared for battle, with one of them posing exactly like Goku. Batman/Superman: the best in the world #2 is written by Mark Waid, with art by Dan Mora, color by Tamra Bonvillain, and lettering by Aditya Bidikar.
See this post on Instagram
Mora's Goku reference comes at a time when more Western comic artists are talking about the influence of manga on their work. Recently, Batman Artist Jorge Jiménez has shared his own tribute to Naruto, which he credits as the source of his inspiration to become a comic book artist. Considering that DC currently has its own ongoing series inspired by the manga, Future State: Gothamand the current Robin, Damian Wayne, is a manga reader himself, the impact manga has had on their Batman titles has never been more evident.
Dan Mora is undoubtedly one of the most recognizable talents in comics today, and his reference to Dragon Ball Zis Goku in The best in the world highlights his deep love for graphic storytelling. While Western manga and comics are generally considered completely separate from each other, artists like Dan Mora are proving that the two forms can merge through the work of contemporary creators. By subtly adding Dragon Ball Z reference, Dan Mora pays tribute to the impact that the manga had on his Batman-work related to DC Comics.
Batman/Superman: the best in the world #2 is available now from DC Comics.
Source: Dan Mora
---
More information about Batman Artist Hides Dragon Ball Z Reference In New World's Finest

Warning: spoilers for Batman/Superman: World's Finest #2 are ahead. 
Fans of Dragon Ball Z and Batman from DC Comics never expect to see their favorite characters cross over into each other's stories, but that doesn't stop comics artists from making references in their work. While manga and Western superhero comics are usually viewed as two separate entities that have little to do with each other, many Western comics artists have been influenced by manga such as Dragon Ball Z and Naruto. This most recently came to a head in the newest issue of Batman/Superman: World's Finest #2, drawn by artist Dan Mora.
Dan Mora has made a name for himself in DC Comics with interior art on Batman-related books, drawing several issues of Detective Comics and the Future State: Dark Detective series. Mora's work also extends into indie comics such as Once & Future, a series from Boom! Studios with writer Kieron Gillen and colorist Tamra Bonvillain. His current series, Batman/Superman: World's Finest resurrects a classic DC title featuring a team-up between Batman and Superman, emphasizing the friendship between the two heroes. The title also features adjacent characters such as Robin and Supergirl. And while World's Finest is a DC book through and through, Mora's hidden Dragon Ball Z reference adds a piece of unexpected flair that appeals to fans of both Superman, Batman, and Dragon Ball Z.
On Instagram, Dan Mora posted a panel from Batman/Superman: World's Finest #2, where a warrior from ancient China strikes a similar pose to Goku from Dragon Ball Z. The scene arrives just as Robin (Dick Grayson) and Supergirl are transported back in time to ancient China in order to learn how a recently-surfaced foe, the Devil Nezha, was first defeated by a group called the House of Ji. Understandably, the sudden appearance of Supergirl flying while holding Robin sparked confusion from the House of Ji, thinking that they were "soldiers of Nezha." Given the level of power associated with Nezha, the House of Ji's warriors readied themselves for battle, with one of them posing exactly like Goku. Batman/Superman: World's Finest #2 is written by Mark Waid, with art by Dan Mora, colors by Tamra Bonvillain, and letters by Aditya Bidikar.
View this post on Instagram
A post shared by Dan Mora Chaves (@dan_mora_c)
Mora's Goku reference comes at a time when more and more Western comics artists are speaking about the influence of manga on their work. Recently, Batman artist Jorge Jiménez shared his own tribute to Naruto, which he credits as the source of his inspiration for becoming a comics artist. Considering that DC currently has its own manga-inspired ongoing series, Future State: Gotham, and the current Robin, Damian Wayne, is a manga reader himself, it's never been more evident the impact that manga has had on their Batman titles.
Dan Mora is without a doubt one of the most recognizable talents in comics today, and his reference to Dragon Ball Z's Goku in World's Finest evidences his deep love for graphic storytelling. While manga and Western comics are usually seen as completely separate from each other, artists like Dan Mora prove that both forms can coalesce through contemporary creators' work. By adding in a subtle Dragon Ball Z reference, Dan Mora honors the impact that manga has had on his Batman-related work at DC Comics.
Batman/Superman: World's Finest #2 is available now from DC Comics.
Source: Dan Mora
#Batman #Artist #Hides #Dragon #Ball #Reference #Worlds #Finest
---
Synthetic: Học Điện Tử Cơ Bản
#Batman #Artist #Hides #Dragon #Ball #Reference #Worlds #Finest