The Avengers & NFL Combine in New Marvel/ESPN Crossover Art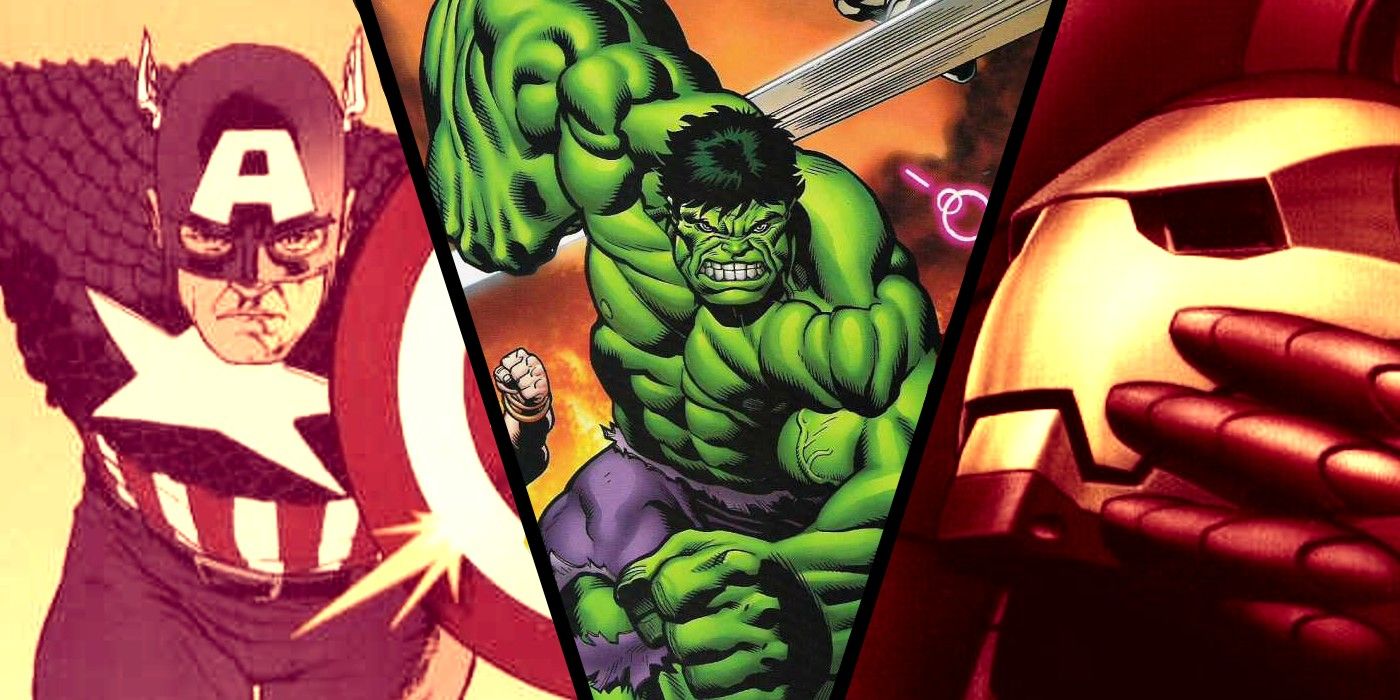 In the new crossover art from wonder and ESPNsome NFL perspective projects get the Avengers' treatment. With the NFL Draft coming up, these players have plenty to be excited about. What better way for Marvel to spread the excitement than by paying homage to some seriously polished comic book covers in a mix of art and sports?
The 2022 NFL Draft is underway. This is also the third time that Marvel and ESPN have teamed up on event-themed artwork. This mix of interests has spawned incredible art and opportunities for Marvel and sports fans alike. From broadcasts of NBA games themed around Marvel heroism and athlete art across multiple sports to themed events for MiLB, this partnership has had no shortage of creative publicity.
On Instagram, ESPN shared cover tributes to some classic comic book covers. However, instead of having the usual heroes in attendance, a select group of NFL draft prospects took their place. Those prospects include Malik Willis, Aidan Hutchinson, Ickey Ekwonu and Matt Araiza. These covers previously featured members of the Avengers: Iron Man, Captain America, Hulk, and Thor. The tributes are just amazing. Malik Willis pays tribute to Adi Granov's cover for The Invincible Iron Man (2004) #3. The tribute artist is Roberto Di Salvo. Aidan Hutchinson's cover pays homage to John Cassaday's work on Captain America (2002) #4. NFL coverage is illustrated by Fabian Harms. Artist Marco Itri pays tribute to Ed McGuinness' cover for Hulk (2008) #11, replacing the titular hero with Ickey Ekwonu. Finally, the titular hero of Thor (1966) #365 was replaced by Matt Araiza in the second cover of Fabian Harms for this special event. These covers are incredibly creative and are wonderful tributes to fantasy comics, paying attention to the detail of the original comics. Hulk's heroic companions have been replaced with Ekwonu's teammates. Araiza ends up in a corner box that mirrors Thor's numbering of issues with the event and also grants ESPN's endorsement as the defunct Comics Code Authority.
See this post on Instagram
Although this is not an expected partnership, it is certainly a welcome one that has already shown great creativity. In 2020, Marvel shared Avengers-inspired covers that highlighted that year's NFL Draft class, including Isaiah Simmons, Derrick Brown, D'Andre Swift, Kyle Dugger, and Jalen Hurts. The 2021 draft class included See Najee Harris, Trevor Lawrence, Azeez Ojulari, Jeremiah Owusu-Koramoah, Kwity Paye, DeVonta Smith and Zach Wilson. These commemorative blankets were amazing to see and would be a fun tradition to carry on for the future. Last year, Marvel also partnered with the NFL for a NY Giants comic book handed out on the team's Marvel Superhero Day. The company also announced that Minor League Baseball fans could attend Defenders of the Diamond Marvel hero-themed parties.
This partnership has seen many fun ways to allow comic book and sports fans to enjoy both of their fandoms simultaneously. While this year NFL prospect projects enjoy the event, wonder and ESPN fans can enjoy avengers tribute cover art.
Source: ESPN
---
More information about The Avengers & NFL Combine in New Marvel/ESPN Crossover Art

In new crossover art from Marvel and ESPN, some NFL draft prospects are getting the Avengers' treatment. With the NFL draft coming up, there's lots of reason for these players to be excited. What better way for Marvel to share in the excitement than by paying tribute to some really neat comic covers in a blend of art and sports?
The 2022 NFL Draft is underway. This also marks the third time that Marvel and ESPN are partnering up with some art themed to the event. This blend of interests has brought forth amazing art and opportunities for fans of Marvel and sports. From NBA game broadcasts themed to Marvel heroism and art of athletes across many sports to themed events for MiLB, this partnership hasn't been short of creative advertising.
On Instagram, ESPN shared cover homages to some classic comic covers. However, instead of having the usual heroes present, a select group of NFL draft prospects have taken their place. These prospects include Malik Willis, Aidan Hutchinson, Ickey Ekwonu, and Matt Araiza. These covers previously featured members of the Avengers: Iron Man, Captain America, Hulk, and Thor. The homages are nothing short of amazing. Malik Willis is on an homage to Adi Granov's cover for The Invincible Iron Man (2004) #3. The artist for the homage is Roberto Di Salvo. Aidan Hutchinson's cover homages John Cassaday's work on Captain America (2002) #4. The NFL cover is illustrated Fabian Harms. Artist Marco Itri pays homage to Ed McGuinness' cover for Hulk (2008) #11, replacing the titular hero with Ickey Ekwonu. Lastly, the titular hero from Thor (1966) #365 has been replaced by Matt Araiza in Fabian Harms' second cover for this special event. These covers are incredibly creative and they are wonderful homages to fantastic comic art, paying attention to the original comics' details. Hulk's heroic companions have been replaced by Ekwonu's teammates. Araiza gets to be in a corner box that mirrors Thor's issue numbering with the event and also grants ESPN's approval like the now-defunct Comics Code Authority.
View this post on Instagram
A post shared by ESPN (@espn)
While this may not be an expected partnership, it is certainly a welcome one that has already shown some major creativity. In 2020, Marvel shared Avengers-inspired covers that highlighted that year's NFL draft class, including Isaiah Simmons, Derrick Brown, D'Andre Swift, Kyle Dugger, and Jalen Hurts. The 2021 draft class included See Najee Harris, Trevor Lawrence, Azeez Ojulari, Jeremiah Owusu-Koramoah, Kwity Paye, DeVonta Smith, and Zach Wilson. These commemorative covers have been amazing to see and this would be a fun tradition to keep going for the future. Last year, Marvel also partnered up with the NFL for a NY Giants comic given out on the team's Marvel Super Hero Day. The company also announced that fans of Minor League Baseball would be able to attend Defenders of the Diamond nights themed to Marvel's heroes.
This partnership has seen many fun ways of allowing fans of both comics and sports to simultaneously enjoy both their fandoms. While this year's NFL draft prospects enjoy the event, Marvel and ESPN fans can enjoy the Avengers homage cover art.
Source: ESPN
#Avengers #NFL #Combine #MarvelESPN #Crossover #Art
---